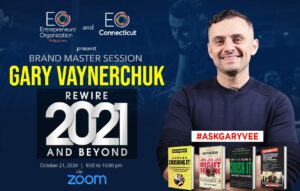 Wed, Oct 21 at 9PM EST
EO Philippines and EO Connecticut –Present Brand Master Session Gary Vaynerchuk
Rewire 2021 AND BEYOND
Gary Vee is a serial entrepreneur and the Chairman of VaynerX, as well as the CEO of VaynerMedia, a full-service digital agency servicing Fortune 500 clients.  He is a venture capitalist, 5-time New York Times bestselling author, and has been named to both Crain's and Fortune's 40 Under 40 lists. View video here
Main Topic for 15 Minutes is to talk about REWIRED MINDSET for the Decade and touch on Trends to look out for, How Entrepreneurs should be thinking entering this decade— GaryVee is well-versed in Entrepreneurship, Futurism, Digital and Social Media, Content Creation, Family Businesses– he always talks about HUSTLING and gives very practical business tips.
The Next 30 minutes will be #AskGaryVee where they will be moderating 12-15 live and pre-set questions already from the audience.
They are looking for 3 interesting questions from each chapter. Send your questions to: Audrey Tanco at: AudreyUy@bizugroupe.com
Bonus Programs :
EO Philippines, will have 2 break out rooms immediately after and are opening it to the chapters as a Bonus!  As we focus on Digital Marketing today, we have 2 Guest Speakers and 2 Separate Breakout Rooms and it is Free and Open to Member Guests and Managers:
As a bonus, Gary Vee's keynote will be followed by a breakout session in two rooms:
A) Creative strategies for B2C digital marketing with BBDO Hong Kong CEO Tony Harris (creator of the "It's More Fun in the Philippines" tourism campaign) Register at: bit.ly/regTonyHarris
B) How to grow your B2B business digitally and globally with LinkedIn Regional Lead for Asia with  Pappen Kallivayalil. Register at: bit.ly/regPappenKallivayalil
These two breakout rooms are open to you and your key managers!