SAVE-THE-DATE
Tactical Business Warfare: OODA Loop
Led by Captain Art Castiglia, USN SEAL
*This course is not typically available to civilians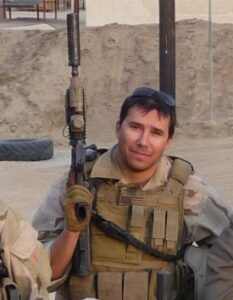 Friday, November 20, 2020 
9:00 AM – 5:00 PM

Paladin Center
39 Seminary Hill Road 
Carmel, NY 10512
(845) 231-3443
https://www.paladincenterny.com/
EO Connecticut Members & SAP's FREE   
Guests $250 per person (very limited spots)
VERIFIED

PROSPECTS ENCOURAGED
Guest Fees can be paid with a check or through Venmo username: John Wonneberger screename: @EOCTentrepreneur
This event will have limited capacity and will sell out quickly.
Agenda:
9:00 AM Arrivals / Registration/Breakfast
10:00 AM  Hard Start / OODA Loop Classroom session
12:30 PM Lunch
1:30 PM Safety Briefing
2:00 PM Real Life Tactical Simulator
3:00 PM Close Quarter Combat (firearms)
4:00 PM Force on Force Battle (Airsoft)
5:30 PM Departure
Dress attire:
Participants should wear long pants, close toed athletic shoes and it would be advisable to wear a long sleeve shirt or bring a sweat shirt preferably with a hood for some of the scenario based training.
Things to bring: Face Mask (COVID), Gloves, Belt, anyone who has Airsoft Gear, feel free to bring it.
It has been said:
Machines don't fight wars, Terrain don't fight wars, Weather don't fight wars
Humans fight wars
You must get into the mind of humans. That is where wars are won.
And business is WAR…
The Boyd Cycle otherwise known as the OODA loop is a decision-making cycle developed by a rogue fighter pilot over the skies of Korea in the mid 1950's. It weaponized human perception as a method to adjust strategies quickly. Boyd argued that conflict in any form was timed competitive Observation, Orientation, Decision and Action Cycles. Taken from the military it was adopted by business to solve a specific problem – how to remain competitive. This discussion course will give you an understanding of the OODA loop as a decision-making tool to help navigate today's complex and uncertain business landscape.
We will learn the concepts of the OODA Loop as taught to our nation's Special Warfare Operations Community from senior Navy SEAL officer, Capt. Art Castiglia. We will then put this knowledge into ACTION!
Following the classroom activities, we will put what we learn into real time action using the same training tools used by our military.
We will:
Learn the safe way to handle firearms
Navigate real life encounters forcing us to make life and death observations and decisions
Learn to look for unforeseen obstacles as we clear rooms with firearms
The afternoon portions of the day we will be using firearms and it will be loud. If you are not comfortable with either of these things, there is an archery range that will be open with an instructor as well. You are only obligated to participate in sessions that you are comfortable with.
COVID Considerations
Be aware that this venue is a 100,000+ square foot indoor training facility.
Please expect to adhere to all COVID required safety precautions.
Please bring a face mask
All equipment will be cleaned prior to our arrival. If any equipment is shared, it will be cleaned in between each use.
During the Airsoft portion of the event, you will have the opportunity to purchase a new face shield ($30) or use one that has been cleaned prior to arrival free of charge.
About Capt. Castiglia
Capt. Castiglia has served with SEAL Team EIGHT, SEAL Team THREE, Naval Special Warfare Group ONE, Naval Special Warfare Operational Support Team ONE, SEAL Team SEVENTEEN, and the US Special Operations Command. He has 4 combat deployments in support of Operation Enduring Freedom and Iraqi Freedom and spent two years at the Pentagon as the Deputy Director of Counter Terrorism for the Office of the Assistant Secretary of Defense for Special Operations. He is also 2015 Distinguished Graduate of the Army War College with a master's degree in Strategic Studies.
He is currently the Founder and CEO of the Syndicate Alliance family of defense contracting companies.  Since 2016, they have grown from ambitious startup to servicing over $110 million dollars in Department of Defense and Department of Veterans Affairs contracts awards.
About the venue
Paladin Center is a Civilian & Homeland Security education venue specializing in public safety and tactical defense training and was founded as a consortium of professionals and privately owned corporations whose primary focus is to support the Nation's first responders.
This training center is used by SWAT teams from across the country, as well as high tier units from the Department of Defense.
Attendees are asked to complete this waiver: https://waiver.smartwaiver.com/w/5de56aaf77b30/web/
Patrick Sikes Photography
@magic_sites
203-856-9508
info@patricksikes.com